Saturday, April 4 @ 7pm (doors open at 6:30)
Egyptian Theatre, Coos Bay (see map below)
Must be 21 to attend
Animal House is 'R' rated for raunchy
$5 gets you into the movie and drawing for Festival poster, concert tickets and more!
Where were YOU in 1978? If you were in your late teens or older when Animal House was released, you may remember the indelible impression this landmark film made. It portrayed college as every student hoped (and every parent feared) it would be. Filmed in Eugene and Cottage Grove, Oregon, over 32 days in fall of 1977, the film's impact can still be experienced to this day. If you've attended a University of Oregon football game at Autzen Stadium, between the 3rd and 4th quarter's, the home crowd knows what's coming. The roadhouse scene from the movie comes on the stadium Jumbotron. Otis Day and the Knights begin their signature version of "Shout" and the entire crowd goes wild partying along with the Animal House characters. It's worth the price of the game ticket alone. So please, Toga up, get your "Shout" on, join in the spirit and care-free fun of Animal House!
Use your imagination and come in your own Toga creation!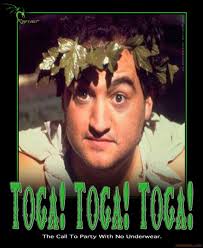 7 Devils Brewery will be serving their fabulous beer.
Delta Tau Chi fraternity at Faber College is the bane of Dean Vernon Wormer's existence. Its members don't attend class, are the source of endless pranks on the campus and have broken every rule imaginable. As a group, they have a negligible GPA and their main reason for living is to party. When Wormer finally finds a way to expel them all, the men of Delta Tau Chi decide to give the college a homecoming parade it will never forget.
Factoids:
– #36 on the American Film Institutes 100 Funniest Movies Of All Time
– filmed for $3 million, gross to date $141.6 million
– John Belushi: while filming in Eugene, he saw Oregon's Curtis Salgado perform. Salgado's sunglasses and blues harmonica style was the inspiration for the Blues Brothers; Belushi died 4 years after starring in Animal House
– Otis Day and the Knights: fictitious group created for the movie. They stepped out of the film and onto live stages around the world. They remain a cultural phenomenon and one of the greatest party bands of all time to this day.
– the food fight was filmed in one take at the Erb Memorial Union or 'Fish Bowl', on the University of Oregon campus.
– Harold Ramis co-wrote the film; his other writing credits include: Caddy Shack, Meatballs, Stripes, Ghostbusters I & II, Groundhog Day
– Director John Landis other credits: Blues Brothers, Trading Places, American Werewolf in London, Coming to America, Three Amigos, Beverly Hills Cop, Michael Jackson's "Thriller" video
– 1st film for: Karen Allen (Katy) later starred in Raiders of the Lost Ark, The Perfect Storm; Kevin Bacon (Chip Diller) starred in Diner, Footloose, Tremors, Apollo 13, Mystic River, A Few Good Men