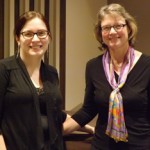 KinderKonzert
Friday, Jan. 30, 1pm
KinderKozert at the Reedsport Public Library. Children of all ages are invited to a free performance by Casey Bozell and Shelley Mathewson. This duo are members of the Oregon Coast Music Festival Orchestra.
Winterlude Tea
Saturday, Jan. 31, 2-4pm
Winterlude Tea at the Coos Bay Manor B & B, 955 S. 5th St, Coos Bay. Enjoy classical music as it was meant to be experienced in one of Coos Bay's landmark homes. Music provided by Casey Bozell and Shelley Mathewson, members of the Festival Orchestra. Tea and delectables will be served. Personalize the event and bring your favorite tea cup! Festival memberships, product and tickets will be available for purchase. Donations accepted on behalf of the Festival. Seating is limited, reservations suggested. Call 541-267-0938.