THUR APRIL 30 @ 7pm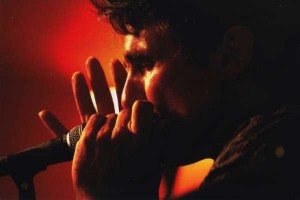 North Bend Public Library (see map  below)
$20, Reservations only, seating limited to 60
To reserve, call: 541-751-9848 or email: rkmetzger890@gmail.com
Gary Allegretto, international Blues performer, recording artist, humanitarian and educator, has graciously agreed to do a workshop/performance open to the public. At the invitation of the Oregon Coast Music Associations, he will be in our area conducting workshops for OCMA's KinderKonzert program. The week long workshops will provide instruction and a free Hohner harmonica to every 4th grader in Coos Bay, North Bend, Reedsport, Coquille, Bandon, Myrtle Point, and Powers. (see Harmonicas in the Schools for details of this event). OCMA wanted grownups to have an opportunity to enjoy and learn from this remarkably talented musician. Each lucky attendee on April 30 will also receive a free Hohner harmonica, instruction included, and be treated to a demonstration of what this instrument is capable of in the hands of a master.
Allegretto's performances have captivated audiences at venues and festivals worldwide, and his recordings have received multiple Grammy Award nomination considerations. His music has topped the Blues and Roots radio charts internationally. On stage, his live shows have attracted guest performances by famous musicians such as Prince, Mick Taylor, Warren Haynes, David Lee Roth, Rick James and by celebrity musicians such as Queen Latifah, Bruce Willis, and Dennis Quaid. He is the 2011 recipient of the Blues Foundation's prestigious "Keeping the Blues Alive" award. He's been praised in the pages of prominent Blues press including Blues Revue, Blueswax, Living Blues, Big City Blues, Blues Matters, and more. Critics have called his musicianship "world class," "masterful," "jaw-dropping," and "exemplary." His songs can be found on film and television productions including the soundtracks of Johnny Depp's film Rum Diary and the national PBS television program "Roadtrip Nation". Gary is prominently featured in KBA award winning harmonica documentary film Pocket Full of Soul. He has performed nationally and internationally backed by his all-star electric band or acoustically. For two decades Hohner, the world's top harmonica manufacturer, has enthusiastically endorsed Allegretto.
Of special note, Gary is the founder and director of Harmonikids (see www.harmonikids.org) which is a non profit charitable organization that provides music therapy with harmonicas and lessons to special needs children internationally.  Allegretto has provided aid to special needs children in the earthquake devastated Port Au Prince, Haiti, in the tsunami refugee camps of North Sumatra, Indonesia, in the Katrina evacuee trailer villages of Louisiana and many more.  Harmonikids has received widespread acclaim in the media including The Today Show, PBS news programs and numerous publications.
For a full biography, please visit www.garyallegretto.com
Thank you to the North Bend Public Library, co-sponsor of event, northbendlibrary.org