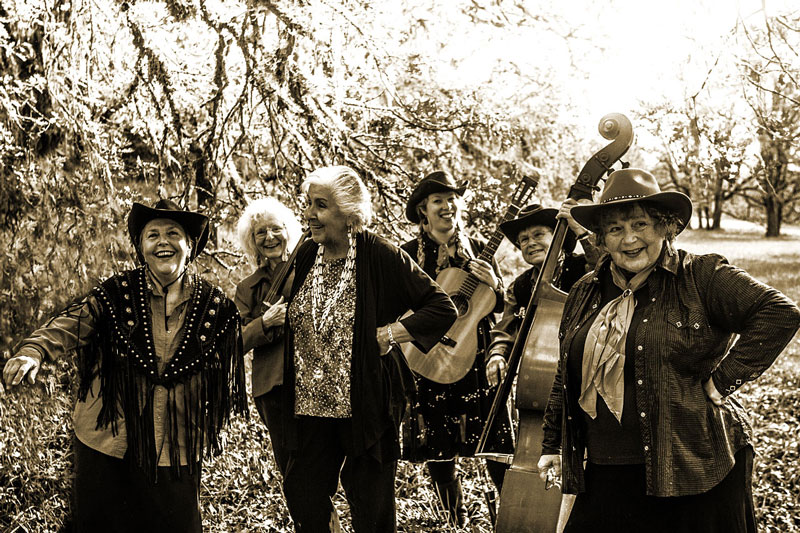 Saturday, July 12 @ 7pm
Hales Center for the Performing Arts, SWOCC Campus
1988 Newmark Ave, Coos Bay (see map)
FREE
Dessert reception provided by Oregon Coast Culinary Institute following the concert in the lobby.
Remember, or imagine, Saturday afternoon nickel movie matinees where Roy Rogers rode Trigger in pursuit of the bad guys, then picked up his guitar to sing about the joys of camping on the trail? If you can picture this, you'll appreciate the music of Slow Ponies. The six woman "cowgirl band" recreates the yodels, sweet harmonies and spirited lyrics of classic western bands like Sons of the Pioneers. Their repertory also includes recent and original songs by band members.
The vocal component of the band include Esther Stutzman, a traditional storyteller and descendant of the Coos and Kalapuya tribes; artist, Susan Applegate; her cousin, writer and historian, Shannon Applegate… both descendants of Oregon's pioneer Applegate family. Completing the band lineup are Linda Danielson on fiddle; Melissa Ruth on rhythm guitar and vocals; and Liz Crain, on bass and mandolin.
The cowboy singing tradition is alive and well with these Slow Ponies to take you there.
Check out the Slow Ponies on Facebook.