Poster Preview Party – Friday, January 4, 2013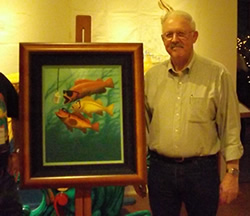 OCMA arrived at the Coos Art Museum for the unveiling of the 35th Oregon Coast Music Festival Poster by Don McMichael.
The Coos Art Museum will also have a new exhibit for viewing so come and get your signed copy of the 2013 poster!
Classical House Concert Fundraiser for OCMA – Saturday, January 5, 2013
Winter-lude Fundraiser – Sunday, January 6, 2013
North Bend Presbyterian Church
Winterlude fund raiser
Classical music as it was meant – in a small and intimate space. OCMA Orchestra members performed, and a reception with our performers was held after the concert.