The 38th Annual Oregon Coast Music Festival, July 21-30, 2016!
OCMA Fundraiser at 7 Devils Brewing Co. - Saturday, May 7, 2016 from 2-5pm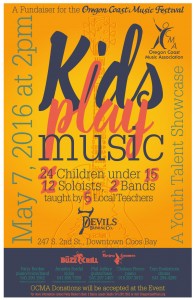 Oregon Coast Music Association in cooperation with Patty Becker's Bach2Basics Lesson Studio will be hosting a YOUTH TALENT SHOWCASE at 7 Devil's Brewing Co. Beyond fundraising our goal is to showcase, and bring attention to, the high level of music education in Coos County and to shine a light on the many experienced, independent music instructors in our area. Stay tuned for more information as performers and songs lists are being submitted!
OCMA will have a table at Coos Bay Farmers Market
starting on Wednesday, June 8th through July 27th, 2016. Stop by and say Hello!
The Oregon Coast Music Association would like to thank
the following sponsors and supporters of the 2016 Harmonicas in the Schools:
OCF/Tom and Joan Stamper
Banner Bank
Coos Bay Lions
North Bend Presbyterian Church
Dolphin Playhouse
North Bend Public Library
The Egyptian Theatre
Tony Esperance
Sean Grubb, Talina Copland and Hillcrest Elementary
Holly Sylvester and Oceancrest Elementary
Kristen DeAndrea and Coos County Home School
Sally Harrold, Terri Eslinger, Michelle Petrofes, Linnae Beechly, and Kathy Metzger
Coos Bay, home of the longest running music festival on the Oregon Coast presents a variety of stunning concert settings around the beautiful Coos Bay area. The ten days include 2 outdoor concerts that invite picnics, bare feet and dancing, Barbershop, 2 classical chamber concerts and the GEM of our Festival, three classical concerts performed by our Festival Symphony Orchestra.
Whether a novice or seasoned classical music fan, a very special treat awaits hearing our orchestra live! Their exceptional performances bring audiences back year after year. Go to Calendar for details of each concert program. There will be time between events to enjoy the treasures of the spectacular Oregon coast: pristine beaches, succulent seafood, sand dunes, fishing and more!
See Visitor Info for traveler tips on lodging, dining and other activities to enjoy during Festival.
The Oregon Coast Music Festival Orchestra in performance, 2014
July 26, 2016, "Three Concert Favorites"; July 28, 2016, "A Festival of Film Favorites"; and July 30, 2016, "Classic & Romantic".

The First 60 Seconds
Our 80 piece professional orchestra belongs uniquely to us. They come from throughout the Northwest and nation to perform together for only one week during Festival. They arrive Sunday evening, greet each other for the first time in a year, then take their seats on the stage. James Paul, Conductor and Music Director of the Festival Orchestra since 1991, taps his baton on the music stand and raises his arms to begin their first practice. This is what we heard in the first 60 seconds, 2015.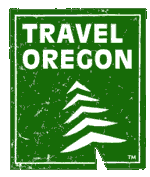 Travel Oregon Enthusiastic!
Be a Part of the Festival

Become an OCMA Member!
Membership benefits include discounts on concert tickets, merchandise and much more! See all the benefits.

Sponsor a Festival Event
You or your business can support and sustain the Oregon Coast Music Festival by sponsoring a Festival event. Levels and Benefits.

Advertise in Our Festival Program
There are four options for a business, service club or individual to support the Oregon Coast Music Festival by advertising in our program. Learn more.