Oregon Coast Music Association unveils the 2020 Festival art image at Winter Fest events in the bay area February 28, 29, and March 1
The Oregon Coast Music Association (OCMA) announces its 2020 Festival Art Image Presentation at the Winter Fest musical events. The Festival Art Image was created by local artist Susan Chambers. The following provides details about the image.
Octavius is back! After being released to a marine garden at Cape Arago last year, he returned to Sunset Bay this year to play with some new friends from the deep. Tucker, a tiger rockfish, is complementing Octavius' cello performance by playing the trombone. Lacking fins long enough to reach the trombone slide, Octavius is working the slide while Tucker provides the "oomph" to give the trombone its signature sound. Clarence the Dungeness crab is conducting them both in their duet, "The Solemn Sounds of Sunset Bay."
Susan built on the popularity of Octavius' one-octopus symphony image of 2019, bringing him back to reprise his performance – but this time he has friends! Like last year, this piece is filled with a couple Easter eggs, hidden objects or items with special meaning. This year they are subtle. Tucker, the name for the tiger rockfish, is named after Susan's family's dog who passed away in August. Clarence the Dungeness crab has the same moniker as a Dungeness crab painted on an undersea mural in a room at her parents' home. The tickets Octavius holds have the same numbers as the tickets given to her parents for the unveiling event last year. Susan tells us that Sunset Bay, the setting of the image, is "one of my favorite places in the whole world!"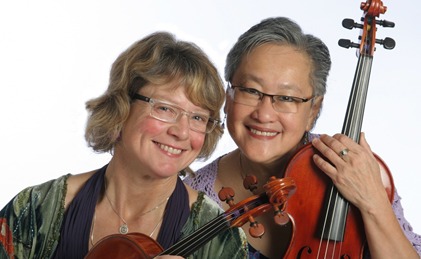 Shelley Mathewson and Sharon Eng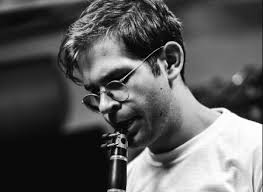 Aaron Johnson
WINTER FEST 2020!
Shelley Mathewson and Sharon Eng (Madrona Viola Duo)
We once again plan Winter Fest events to highlight OCMA chamber musical performance. Our Festival Orchestra musicians Shelley Mathewson and Sharon Eng (Madrona Viola Duo) will play an interactive concert for the area students on Friday morning, February 28 at Marshfield Auditorium. This event is coordinated with instructors at Marshfield and North Bend schools. On Saturday, February 29th, the Madrona Viola Duo will provide a special benefit at the Coos History Museum's Sprague Gallery. We plan to reveal our new festival image at that event.
Aaron Johnson
On Sunday afternoon, March 1st, we have special benefit event scheduled for Black Market Gourmet with a return by Aaron Johnson to play a jazz chamber concert.
Stay Tuned for Photos!
Start Planning for 2020
Duo Amabile Returns to Charleston April 4th !! THIS EVENT HAS BEEN CANCELED !!
We will work with individual ticket holders regarding funds.
Steven Moeckel and Paula Fan are scheduled for an- other amazing concert in the auditorium of South Slough National Estuarine Research Reserve. Steven was named as concert master of the Santa Fe Opera, and will not be available for our July Festival, but his love of all things on the South Coast is bringing him and his colleague Paula Fan to plan another benefit for us this April.
Start Planning for 2020

Duo Amabile

Ron Blessinger Selected as New OCMA Concert Master
Violinist Ron Blessinger has accepted our offer to serve as OCMA concert master. A member of the Oregon Symphony, Ron as frequently appeared with them as a soloist and chamber music performer. Ron serves as executive director of 45th Parallel Universe, a musician managed collective that presents nine concert series in Portland. He has performed on and served as executive producer for recordings of contemporary classical music. and collaborates with major arts institutions in the Portland Area.