Boathouse Concert – The Darrell Grant Combo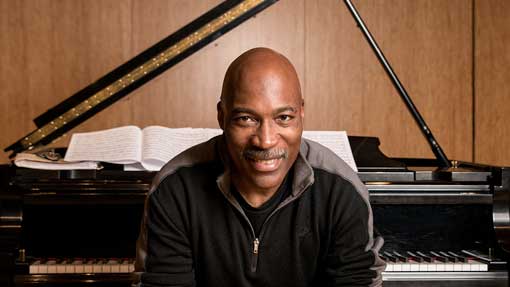 Sunday July 22nd 2018 @ 2pm
OIMB Boathouse in Charleston (see map below)
BUY TICKETS
LIMITED SEATING: Only 120 Tickets will be sold.
Darrell Grant's All 4 Naught Trio with special guest Danielle Barker
The Oregon Coast Music Association is delighted to welcome the return of Darrell Grant to our Festival. Over the years Darrell has graced many of our venues with wonderful jazz and other musical genres. Darrell brings with his All 4 Naught colleagues Eric Gruber, Tyson Stubelek, and guest vocalist Danielle Barker to the OIMB Boathouse on July 22, 2018 at 2:00 pm. The afternoon will include a champagne reception catered by Black Market Gourmet.
Since the 1994 release of his debut CD Black Art, selected one of the year's top ten jazz CD's by the New York Times, Darrell Grant has built an international reputation as a pianist, composer, and educator. He has performed extensively as a bandleader and solo artist throughout the U.S., Canada, and Europe in venues ranging from clubs and concert stages to major jazz festivals. Grants trio All 4 Naught (A4N) marries the jazz artist's creativity and inspiration to the music of today. Exploring the songs of contemporary artists ranging from Lorde and Pharrell Williams to Sting and Crosby, Stills & Nash, A4N shows audiences another side of music they thought they knew. Combining creativity, craft, and feeling, All 4 Naught's repertoire of original arrangements and compositions feature Grant on piano, Wurlitzer, melodica, cajon, vocals, and loop pedals, Eric Gruber on upright and electric bass, and Tyson Stubelek on drums and percussion.
The trio's new project "Beyond the Beautiful Blue" is a tribute to the music of iconic singer-songwriter James Taylor. Grant and company apply the imagination, harmonic adventurousness, and rhythmic mastery of today's jazz to Taylor classics like "Fire & Rain," "You've Got a Friend," and "Carolina in My Mind." They will be joined for this performance by Portland rising-star jazz vocalist Danielle Barker.
About Darrell Grant
Darrell was inducted into the Jazz Society of Oregon Hall of Fame in 2009. His critically acclaimed albums as a leader include Spirit, Truth and Reconciliation and The Territory. In 2011, he was the first recipient of the Kamelia Massih Outstanding Faculty Prize in the Arts from Portland State University, where he is a Professor of Music and directs the Leroy Vinnegar Jazz Institute. He was the recipient of a 2012 Chamber Music America New Jazz Works grant, and was awarded a 2016 Northwest Regional Emmy Award for his work as a composer on the OPB special "JazzTown." In 2017 he was one of twelve individuals nationwide to be honored as a Jazz Hero by the Jazz Journalists Association. He has appeared with All 4 Naught has appeared at the Montavilla Jazz Festival, Portland Chinese Garden, Artist's Repertory Theatre and multiple performances for PDX Jazz.